1 / MALDIVES IS A SUP SURFERS PARADISE
The Maldives conjures up all the typical dreamy tropical paradise ideals and cliches, which it delivers and then some. A bucket list destination for sure. What's more, for SUP surfers especially, are the abundance of quality wave options. Consistently producing perfect wave choices for our clients of all ages.
Averaging perfect shoulder – head high to over head glassy walls reeling off in deeper water. It is what SUP surfers dream of. It's not uncommon for it to get bigger but don't fret, the waves we find are easily manageable no matter what the size. We are yet to find a destination that offers, not only perfect waves, but the variety and the quality of boats. There is no where like the Maldives. Guaranteed.

Crystal clear water, perfect waves and beautiful back drops. We won't name our favourite waves publicly anymore 😉
2/ BOAT TRIPS
Did you know that the best waves in the Maldives are only accessible by boat?
In my opinion, I would never go on an international land based surfing holiday. It's too limiting. And as a SUP surfer you don't want to be working the line up with too many short borders. You know, it is not uncommon to find popular surf spots in the Maldives, Sri Lanka, Indonesia and Hawaii with 50 or more surfers hustling on one peak?
On our boat, Adora, one of the newest and fastest cruising vessels in the country, we will have you away from the crowds in no time. Not only that, it doesn't matter what the swell direction or wind is, we have hundreds of miles of ocean available to us and hundreds off reefs with options for all conditions specifically with Stand Up Paddle surfers in mind.
Want to have a beer and a bon fire on the beach? You won't be doing that at any land based local island in the Maldives. Alcohol is banned, unless you're in a big resort, or on an uninhabited island…..only accessible by boat.
Seasick? Very very few people get seasick on our boat, she's big and stable and we choose calm protected anchorages every night. We've never had anyone seasick at anchor. That's people on the roof top in the image above.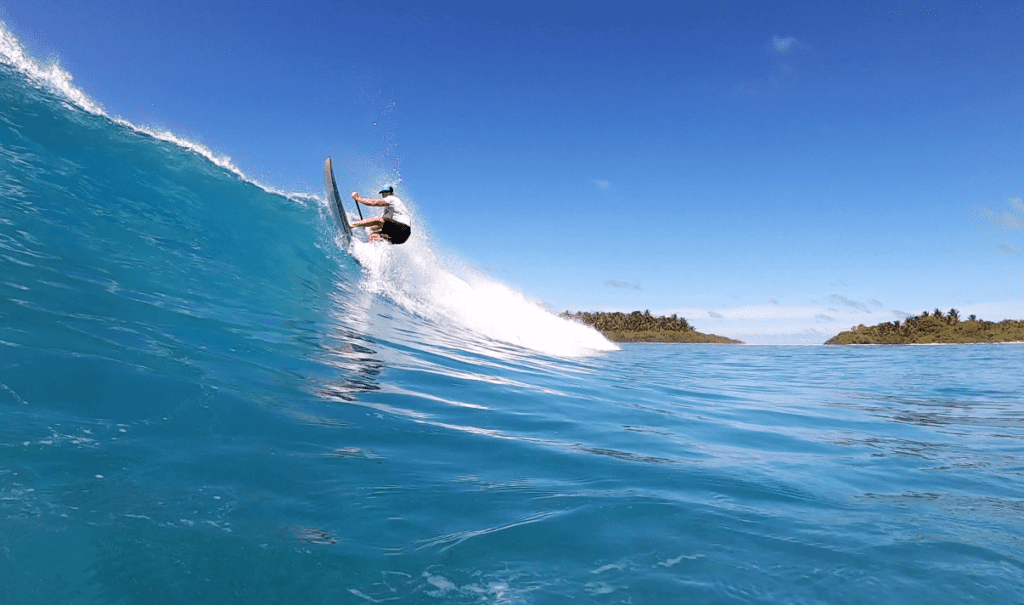 3/ BEAT THE EXPENSE OF PRIVATE RESORTS
Did you know that those high end surf resort have their own private wave and no one else can surf them? Did you know that they all only have one private wave to chose from? Did you know that most resorts will allow up to 30 surfers to book at one time? So much for private waves. And if the waves not firing then you'll be taking a boat trip to a nearby wave or two that can be packed with other surfers from other resorts, hostels and boats.
4/ NON SURFING PARTNERS ARE ENCOURAGED TO JOIN
Family and friends are at the core of our personal values at Moon Tours which is why we are shaking up the surf trip norm and catering for our non surfing partners, friends and family. Why should they stay home and miss out on cruising the Maldives on a beautiful boat in one of the dreamiest locations in the world with a bunch of non surfing activities available?
Soaking up the sun on the roof top deck with a book in one hand a cocktail in the other? If thats to relaxed we have a PADI dive school & instructor onboard, inflatable paddle boards, cooking classes, yoga mats, snorkelling gear, in room TVs, WIFI and library. Fishing, island exploring, local interactions, eco beach clean ups and photographic opportunities to envy.
5/ WE HAVE THOUGHT OF EVERYTHING
Moon Tours offer the best SUP tours in the world with professional SUP coaching, the best local guides in the Maldives, 10 Sunova SUPs on board FREE of charge, our all inclusive packages include meals, drinks, crew tips, wifi and taxes. Theres nothing else to think of.
We look forward to welcoming you in the Maldives soon,
Trent & Stephanie Moon.
Early bird bookings are now open VIEW ALL 2021 SUP TOURS